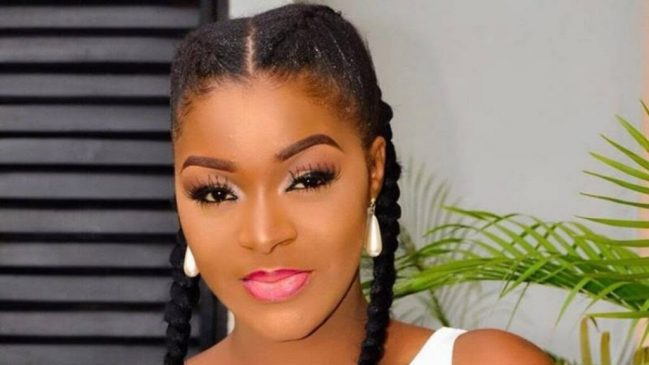 Nollywood star act, Chacha Eke Faani, yesterday, dropped a bomb over her crashed marriage, announcing that she had a mental disorder and was undergoing treatment.
The Ebonyi State born mother of three, had last weekend, through a viral video on her Instagram page, announced that she was quitting her 7-years old marriage to her filmmaker husband, Austin Faani.
Since that first video, her fans and Nigerians at large have been insinuating that the beautiful actor, may have ended her marriage due to domestic abuse.
But in her latest video yesterday, Chacha Eke denied suffering any domestic abuse from her husband whom she said "has never lifted a finger on her or even shouted at her".
She instead, claimed that she was diagnosed with 'Bipolar Disorder'. (Bipolar disorder, is a mental health condition that causes extreme mood swings that include emotional highs and lows).
Hear her: "Five days ago I made a video saying that my marriage toAustin Faani is over. That video came with a lot of backlash, with people saying it's a clear case of domestic violence. That's not true,Austin has never raised his hands on me and God in heaven knows that that is the truth."
"I am here at First Delta American Hospital here in Asaba receiving treatment. I have been diagnosed of bipolar disorder," she said.
According to the Mayo Clinic, "Bipolar Disorder, formerly called manic depression, is a mental health condition that causes extreme mood swings that include emotional highs (mania or hypomania) and lows (depression).
When you become depressed, you may feel sad or hopeless and lose interest or pleasure in most activities. When your mood shifts to mania or hypomania (less extreme than mania), you may feel euphoric, full of energy or unusually irritable. These mood swings can affect sleep, energy, activity, judgment, behavior and the ability to think clearly.
Episodes of mood swings may occur rarely or multiple times a year. While most people will experience some emotional symptoms between episodes, some may not experience any.
Although bipolar disorder is a lifelong condition, you can manage your mood swings and other symptoms by following a treatment plan. In most cases, bipolar disorder is treated with medications and psychological counseling (psychotherapy)."